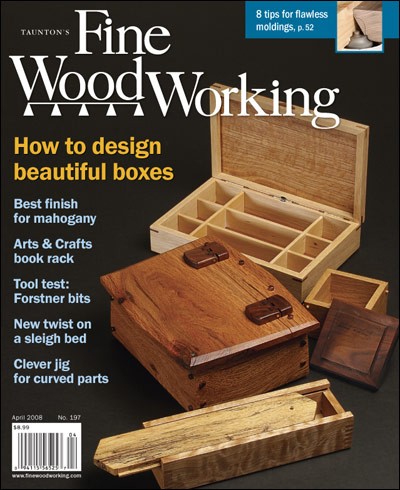 2017

February 2017 Fine Woodworking
Pick the Perfect Hinge for Your Box
— Taunton Press
2016

July 2016 Wood Magazine
Building on Book Learning
— Meridith
2014

October 2014 Wood Magazine
Box Tops that Rock
— Meridith
June/July 2014 American Woodworker
Silver Chest
— F+W Media
2013

August 2013 Fine Woodworking
Master Class wooden hinges
— Taunton Press
Summer 2013 Best of Fine Woodworking
Outdoor Projects
— Taunton Press
April 2013 Fine Woodworking
Installing knife hinges
— Taunton Press
2012

December 2012 British Woodworking
Wisdom of the Hands
— Fresh Wood Publishing
Fall 2012 Fine Woodworking
Quick and Easy Projects (Compilation)
— Taunton Press
August/Sept 2012 American Woodworker
No Fuss Box Joints
March 2012 Fine Woodworking
Easy Glass Doors
— Taunton Press
2011

December 2011 Fine Woodworking
Distinctive Box Details
— Taunton Press
August/Sept 2011 American Woodworker
Sliding Book Rack.
July 2011 Make Magazine: Vol. 27
Spoon Carving Knife
March 2011 Fine Woodworking
Mini router bits from Amana
— Taunton Press
2010
June/July 2010 Woodcraft
Mixing and Matching Woods
March 2010 Lee Valley Woodworking News, Vol.4 Issue 4
Wisdom of the Hands
April 2010 Fine Woodworking
Perfect Hinges Every Time
Feb/March 2010 American Woodworker
The Gifkins Box
Feb/March 2010 American Woodworker
A Simple Router Table
2009

Summer 2009 Furniture Matters
Sloyd, Wood Shop and Formative Education
Summer 2009 Fine Woodworking
Essential Shopmade Jigs (Compilation)
— Taunton Press
February 2009 Custom Woodworking Business CWB
Wisdom of the Hands
Feb/March 2009 American Woodworker
School News, Clear Spring School
2008

December 2008 Fine Woodworking
Better Way to Build Boxes – order here
— Taunton Press
October 2008 Woodwork
Revisiting Educational Sloyd
October 2008 Woodworks
Sloyd Models
April 2008 Fine Woodworking Cover story
Designing Boxes – order here
— Taunton Press
April 2008 Woodwork
A Simple Bookstand
February 2008 Woodwork
Robyn's Bench
2007

December 2007 Woodwork
A Tale of Two Boxes
September 2007 Woodcraft
Doug's Custom Knife Box
August 2007 CabinetMaker, editorial
Woodshop in a Nutshell
August 2007 Fine Woodworking Website
Woodworking for Kids
— Taunton Press
April 2007 Woodwork
A Beginner's Bench Hook
Spring 2007 Independent School
Woodworking at Clear Spring School
March 2007 Woodcraft
Economics, Woodworking and Stamp Trucks
2006

December 2006 Encounter: Education for Meaning and Social Justice
Wisdom of the Hands
December 2006 Fine Woodworking
Center Gap Table Tops
— Taunton Press
November 2006 Woodwork
Making a vacuum veneered box
November 2006 Woodcraft
Making a pen collection box
August 2006 Fine Woodworking
Finishing Boxes with Danish Oil
— Taunton Press
August 2006 Woodwork
Making a carved Jewelry Box
June 2006 Woodwork
Making a Rustic Wooden Box
April 2006 Woodwork
A Union of Souls, Profile of Robyn Horn
April 2006 Woodwork
Making Crooked Knives
March 2006 Northern Woodlands
Another View of Woodworking Education
Jan/Feb 2006 Fine Woodworking
Methods of Work "A minimalist router table"
2005

Nov/Dec 2005 Fine Woodworking
Reader's Gallery, Walnut Workbench
January 2006 Woodcraft
Vacuum Laminated Box
December 2005 Woodcraft
Making Magazine Storage Boxes
October 2005 Woodwork
Making a Walnut Writing Desk
November 2005 Woodcraft
Back to School, the Wisdom of the Hands
August 2005 Woodwork
Beginning Sloyd, 21st Century
August 2005 Woodwork
The Sloyd Knife
July 2005 Woodcraft
White Oak Bookcase
May 2005 Woodcraft
Making a Walnut Box with Mitered Box Joints
— Dovetail Media
June 2005 Woodwork
Making a Cane for Aunt Wuzzie
April 2005 The Woodworker
Making a Stone topped Table
— Nexus Media, UK
February 2005 Woodwork
Making Scandinavian Bent Wood Boxes
2004

December 2004 Woodwork
Making Sculpture from the Half Model
December 2004 Practical Woodworking
Making a Cradle
— Nexus Media, UK
October 2004 Practical Woodworking
Chair for a Young Rocker
— Nexus Media, UK
August 2004 Woodwork
Free Wood
August 2004 Woodwork
Educational Sloyd
August 2004 Woodwork
Paper Sloyd
June 2004 Woodwork
Making a Tribal Coffee Table
June 2004 The Woodworker
Making Desk Compartments
— Nexus Media, UK
January 2004 Practical Woodworker
Boxes With Angled Slip-Feathers
— Nexus Media, UK
April 2004 Woodwork
Making Valentines Boxes-Family and Community in the Woodshop
2003

December 2003 Woodwork
Making a Box for John Ruskin
August 2003 Woodwork
Making Stone Topped Tables
April 2003 Woodwork
Making Lucy's Cradle
2002

December 2002 Woodwork
Making Desk Compartments-Cubbies, Drawers and Secret Boxes
October 2002 Woodwork
Making "Turned" Shaker Knobs on the Router Table
July 2002 Practical Woodworker
Hall Table
— Nexus Media, UK
June 2002 Woodwork
Spalted Maple and Walnut Table
April 2002 Woodwork
Making a Child's Walnut Rocker
February 2002 The Woodworker
Pedestal Table, Hinge Jig
— Nexus Media, UK
2001

December 2001 Woodwork
Making Boxes With Angled Slip-feathers
August 2001 Woodwork
A Simple Technique For Installing Butt Hinges
August 2001 Woodwork
Half Blind Dovetails (With Power Assist)
2000

December 2000 Woodwork
Making an Inlaid Pencil Box With Slot Hinges
1997

July/Aug 1997 Woodworker's Journal
Cherry dining chairs
Mar/Apr. 1997 Woodworker's Journal
Cherry dining table
Jan/Feb. 1997 Woodworker's Journal
Cherry Sideboard
1996

Aug/Sept.1996 Woodworker's Journal Online
Artist's Profile
April 1996 Fine Woodworking
Notes and Comments, Table and benches.
1995

Nov./Dec 1995 Woodworker's Journal
Spice Cabinet and Artist Profile
Sept./Oct. 1995 Woodworker's Journal
Earring chest, inside and cover